Welcome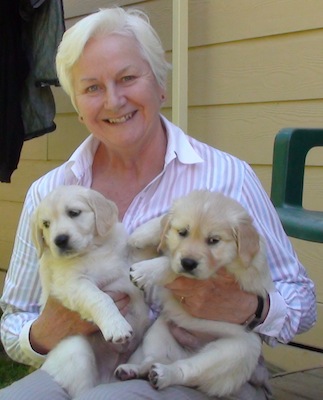 Hello! I am Angie Randall, owner and breeder of Jamarang Golden Retrievers.

I have owned Goldens for 63 years now and am certainly a firm believer in the fact that once you have loved a Golden you are hooked for life.

My first contact with Goldens was when I visited my aunt in Surrey to help in looking after her Golden litter sired by the famous stud dog Eng. Ch. Camrose Fantango from Joan Tudor Kennels. I was in my element being able to help and cuddle puppies for the whole of my school summer holidays in England. My reward was one of the pups My Golden Fantango whom I called Champ. He became my best friend.

Having emigrated to Australia I was lucky enough to be referred to Peter Watson, then President of the GRCV and in 1980 I soon purchased my beautiful Nellie (Kyrama Kynelley). In 1984 Emma (Harigold Aurum Emma) joined my family. In 1994 I lost Nellie and returned to Peter Watson for Nugget (Diogenes Nell Gwynne). With Nugget I decided to pursue my childhood dream of rearing Golden puppies.

This was to prove far more difficult than I ever anticipated! On 21 December 1995 Nugget gave birth to one puppy Angel,
my first Jamarang! I called her Jamarang Xmas Angel and she was sired by Ch Ribbonwood Ark Royal. In 1998 Angel was mated to Ch Diogenes Stacked Deck and produced nine gorgeous puppies of which I kept Sheba (Jamarang Queen of Sheba). Late that year I was lucky enough to meet two very special Golden friends, Jill Pearson from Beaucroft Kennels and Carol Hobbelen from Acacian Kennels. These two kind ladies were to give me all the advice I needed to succeed with puppies.
Sheba went on to have eight pups including three beautiful girls Kandy, Rosie and Molly sired by Carol's dog Toby (Ch Acacian Super Natural).

Kandy, Rosie and Mollie were all beautiful girls with great hips scores and passed all other medicals with flying colours. They all went on to bear puppies, Kandy having three litters sired by Jill Pearson's beautiful boy Diesel.

Kandy's grand-daughter Emma has over the last few years given us two litters. the first was sired by Jill's beautiful boy Jimmy and the second sired by Wendy Johnson's gorgeous Hunter (Bicklewood Goodwill Hunting). We desperately hope she will give us some more puppies!

21 month old Kandy had 7 beautiful puppies on 8 January 2023. Sired by Hunter (Bicklewood Goodwill Hunting).